See Saw is a Raleigh based company focusing on applied theatre projects in the NC Triangle.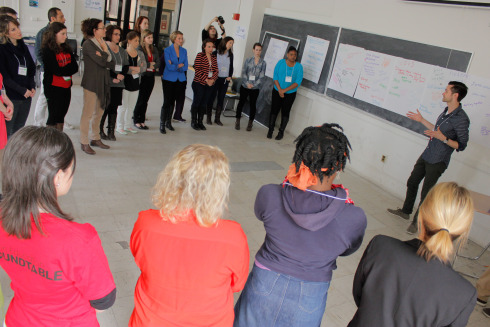 Applied theatre (AT) utilizes the dramatic arts as a tool for social change. AT intersects and engages many disciplines, such as public health, social work, education, urban planning, prison reform, business, and more.
Often participatory, AT is practiced outside the traditional theater in community centers, prisons, hospitals, classrooms, and site specific locations (like farms!).
See Saw leads applied theatre based projects in different settings and for a variety of communities including:
Improv & Storytelling Workshops for Communication and Healing.
We work in the prison system, with the recovery community, or with any community who would benefit from interactive, imaginative performance workshops.
Interactive, Educational Theatre
Playback Theatre for Senior Citizens
We hold storytelling workshops with seniors and use their stories to create a performance for them.
Theatre & Improv Sessions for your Company or Conference
We'll work with you to create an interactive session for your employees or conference participants that is based in team building, problem solving etc.
Images: (Banner) Photo credits: Devin Brenton from Raleighhappening.com; (Below) The Arab Spring Process Drama at NC State (photo cred: Mark Tulbert), Reminiscence Theatre at CUNY MA in Applied Theatre, Mic photo Bogomil Mihaylov on Unsplash, and See Saw Teaching Artists performing at the NC Grantmakers Conference Plenary Session 2016.